NADAC Championships
Participate in a GLOBAL event!

Sponsored by 

Championship Courses 
Sunday – 
Team-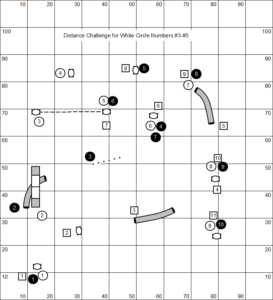 Finals –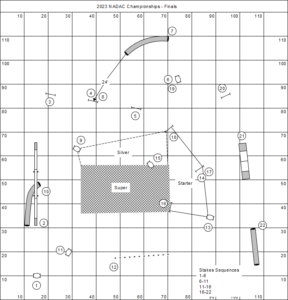 Challengers –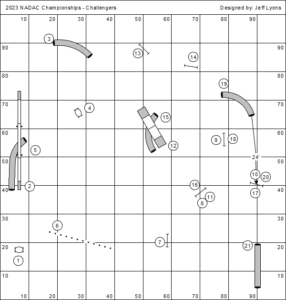 Saturday – 
Round 5 – 
Round 6 – 
Friday –
Round 1 –
Round 2 – 
Thursday –  
Round 1 –
Round 2 – 
Pre-Trial 
Wednesday – 
Tuesday – 
2023 NADAC Championships
Champions Center in Springfield, Ohio
Pre-Trial October 3-4
Main Event October 5-8
        Qualifying Period – Aug 1st 2022 – Aug 1st 2023
Entries close on Aug 15th 2023
 Championship Updates: 
Please join the NADAC Community to access the Championships group where updates can be found as well as the ability to connect with other competitors attending the event!

The 2022 NADAC Championships
September 22 – 25 In Gillette, Wyoming
Location: Cam Plex Event Center
1635 Reata Drive, Gillette, Wyoming

(Pre-Trial September 20th & 21st)
Course Maps –
Thursday Round 1 Pre-Elite/Double Digit 
---
---
Champs Updates:
Saturday:   Absent dogs will no longer be allowed to move to the last run of the day.  If you miss your run, you do not get that run.
Sunday Schedule: Team and the Challengers round will run first, at the same time.    Followed by Finals.    Then the awards ceremony.
Info Sheet for Entry Qualifications and other info
Entry Forms and Reservation Forms
COVID rules and plans (Updated August 17th)
Because of the updated CDC guidelines released on the 11th of August we are revising our COVID policy for Championships.
We will not be requiring rapid tests at this point for all competitors.
If anyone shows symptoms we do reserve the right to have them take a rapid test, if that test comes back positive they will be excused from the event and the entire event will go into a full masking mode.
We won't be requiring masks during the walk throughs, although it is still highly recommended.
We hope everyone understands that we're simply trying to do the best we can while allowing as many people to join as possible.   There are flaws in every possible scenario, this is simply what we feel the most comfortable with and have the highest hopes of providing a safe event for everyone.
Refund info (Updated August 1st)
100% refunds will be given until September 1st.
50% refunds will be given from anytime after September 1st until the event starts.  Any money not refunded can be used at a future NADAC event.
100% refunds are also given for anything beyond the handlers control, such as dogs in season, COVID or other accidents that occur before the first day of competition.
UPDATE: August 1st:  If you test positive during the Friday Tests we still give a 50% refund on your Champs entry fee.
Raffle Info
Are you gearing up for this year's raffle??  Saving up your money??  Printing your name labels?  This year's raffle is going to be the best ever!  For those first time Champs people, the raffle consists of state baskets donated by a club, person or group representing their state or country. The "basket" can be any size or style of container you wish to bring.  In the past, I have seen coolers, dog tents, crates, dog pools, chairs, buckets and many more original containers stuffed with items from their state or country. Or simply display your items on the raffle table. Your imagination has no limits!!
Most groups will share in bringing the items for their 'basket'.  Many items in the baskets represent things that come from your state or country and are unique to that area. But not all baskets are area specific. Some baskets are theme related or club related. And purple items seem to be very popular!  
In the past, we have seen some amazing gigantic baskets from different states or groups. This year we would like to spread more of the joy, so we would like the groups to think about splitting up some of their basket into multiple raffle items. Like for example, one major basket with other smaller baskets/items that can be raffled separately, or even 2-3 evenly dispersed baskets. This way we get more winners!
Raffle tickets will be priced as follows.
$1 … 1 ticket
$5 … 7 tickets
$10 … 15 tickets
$20 … 35 tickets
$50 … 100 tickets  
So save up your money!!!    
The Bruce Vincent Early Bird special sales will be from 9am -5pm on Weds only.  
The special is $100 for 300 tickets!
The raffle area will be near the crating area and near the vendors and the Ribbon wall. We will open the raffle area tables for set up as soon as we have the tables organized and covered. Probably not til Tuesday.  Each group/person is responsible for setting up their own basket area.  Please try to contain your items into as small as space as possible on the tables. There will be lots of baskets and we want to be sure everyone has enough room to display their items. 
Manning the raffle table for 5 days is a huge undertaking, especially on Weds during the Early Bird Special. If you have any free time and wish to help out please let me know. You can earn free raffle tickets for helping out.  
If you have any questions feel free to email me at  marj@gotdogllc.com    See you all at Champs!
Pre Trial Courses and Results

The 2021 NADAC Championships
October 5 – 10 In Springfield, Ohio
Location: Champions Center
4122 Laybourne Rd, Springfield, OH 45505
(Pre-Trial October 5th & 6th)
Results Info
Browser link for Overall Results: Click HERE
Results tab has by round results
Overall Scores has the overall results
Team has the team results
Use the search bar to find the divisions you are looking for
---
Distance Cup Winners: Click Here
---
Sponsor Bar Winners: Click HERE
---
Pre Trial Results Click HERE
Standard Course Times for Champs Courses